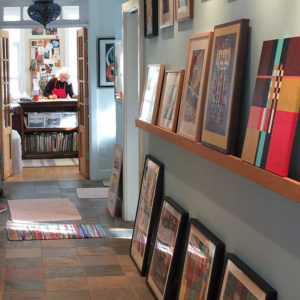 My studio is a small light-filled space crammed with the makings of art. Boxes, drawers, piles, and bins overflow. Paint (acrylic, watercolor, gauche), paper (cotton rag, colored, printed, plastic, textured, handmade), knives, pencils (colored, graphite, watercolor), scraps from old projects, rulers, templates, scissors, punches, books and much more overfill the space. Walking isn't easy.
Still, there is leeway for a dialog between me and my materials. Exuberant watercolors flowing from brush to hungry paper and odd shapes incised on paper by a sharp knife thrill me. Even the scraps from collages fascinate.
The interaction between materials and ideas is like a conversation between dear old friends, intermittent and deeply satisfying.
My studio contains the essentials: time and materials to get to work.
Christine Alexander will display her artwork at the Fishers' Barn, venue #9.