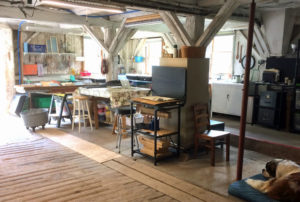 Kathleen Hayek was raised in a small town in southern Louisiana. She earned a BFA in Painting, and a BS in Art Education from Louisiana State University. An MS in Arts Administration from Bank Street College and Parsons School of Design brought her to NYC, which was home for over 25 years. She was president and co-founder of the South of the Navy Yard Artists (SONYA), Brooklyn, NY whose flagship program was the SONYA Studio Studio Stroll in Ft Greene. In 2014, she moved her studio and home to Walton NY, opening a printmaking studio and papermaking studio on different floors of a converted dairy barn which she named East Brook Studios.
Exhibitions: Chenango County Council of the Arts, Norwich, NY; Parlor Gallery, Tabla Rasa Gallery, Goloborotko's Studio, Kentler International Drawing Space, Corridor Gallery, ElevenTen Gallery, Robert Lehman Gallery at Urban Glass, Brooklyn Botanic Garden, Brooklyn, NY; Adelphi University Gallery, SOHO 20, New York, NY; The Guild Gallery, The Big Top Gallery, Louisiana ArtWorks, New Orleans, LA, USA
Collections: Professional offices and public collections: Manhattan & Brooklyn, NY, USA and Sao Paulo, Brazil; Private collections USA: AZ, CA, CT, FL, GA, LA, MI, MS, NV, NJ, NY, OH, PA, TN, TX; Private Collections international: Brazil, France, Mexico, Spain.
About her process, Kathleen says, "The motivating force of my creative work is an ongoing search for the essential truth in beauty, to understand natural life forces and cycles, and to work with unspeakable knowledge revealed best through image. I use symbols of doors and windows, rooflines, and forest to represent the human psyche and life force, placing them in landscapes abstracted from both my urban and rural experience."
Kathleen Hayek will show her work at her East Brook Studios, venue #15.