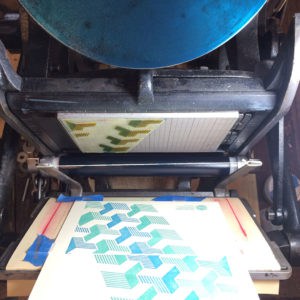 First using a letterpress when he entered a graphic design program more than 25 years ago, Phil Warish never got it out of his system.
Fortunately, years of roaming the Catskills for things to sell in his antiques shop in Franklin also provided him the opportunity to amass the materials and equipment to open his own press (also in the shop) and begin producing not only his own line of stationery, but also a variety of work for private individuals.
The process – essentially unchanged since Gutenberg – is entirely manual (and heavy). It mashes together an understanding of form and color, mechanical know-how and profuse swearing to result in work that is tactile and one-of-a-kind… and hopefully no one loses a finger in the doing.
Phil Warish will display his letterpress stationery at his shop Blue Farm Antiques, venue #20.
Phil Warish, Blue Farm Antiques & Letterpress Printing, website, on Facebook, on Etsy.