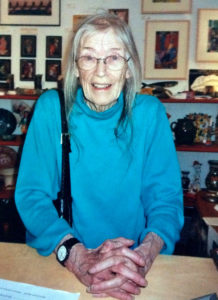 The Franklin Community Center at 574 Main Street in Franklin will be open this July as a new venue for the Stagecoach Run Art Festival. The Festival is pleased to announce that the Franklin Community Center will house a collection of over eighty Oils and Gouaches by deceased painter, Patsy Breiling. Breiling had shown her work at her studio in Treadwell from the first year of Stagecoach until her death at age 87 in 2011. Always a painter, Patsy studied with Rueben Tam at the Brooklyn Art School in the early 1960s. She is known for her vibrant colors and large Delaware County landscapes, and her work can be seen in many private collections in this area and Westchester County, NY. She was the founder of the Treadwell Wednesday Painters which still meets every Wednesday. After Breiling's death her daughter put the house up for sale and The Wednesday Painters descended on the studio and rescued all the paintings that they could store. Thanks to the many artists who knew that Breilings paintings should be seen, they will be available to admire and buy this year at Stagecoach.
Also at the Franklin Community Center Nathan Eldred Banks will be showing his Direct Metal Sculptures of famous people – Busts of Andrew Jackson, Judge Judy, Alan Greenspan and Mark Twain, to name a few. Banks received his Masters in Art Education at the College of Saint Rose with a major in Sculpture. He has shown his large standing welded figures at Stagecoach for many years. Originally from Franklin, Banks now teaches art in Hollywood Florida.
Just behind the Franklin Community House is the Franklin Train Museum, also a venue for art during the festival. Three photographers, Brian Fox, Jack Schluep and Brent Delanoy join Dawn Howell who paints in Oil, Acrylic and Watercolor. Margo Bryan-Petersen also will show her mosaics and watercolors. Look for the yellow Festival signs #17 and #18 for these two venues.